Wine Buonumore


Called "Superior" the production of this red wine is subjected to strict procedures and rigorous checks. The best selected grapes Corvina Veronese, Rondinella, Merlot, Sangiovese and Cabernet, picked by hand only, need to be rested for a month after the harvest before being pressed for the must.
During the resting period grapes acquire a higher sugar content and a delicate fragrance. The alcohol content is 15% and it is suitable for a moderate aging.

Tasting notes: a very bright and deep ruby-red colour. A particularly intense aroma due to the fruits (cherries, morello cherries, strawberries and raspberries) in it. Powerful on the palate due to its freshness and good measured tannic structure.

It is best served at 18°C to complement strong flavoured mature cheeses, roasted meat and game.

Sold in bottles of 0.75lt.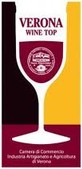 SPECIAL AWARD 2007 - 2008 - 2009